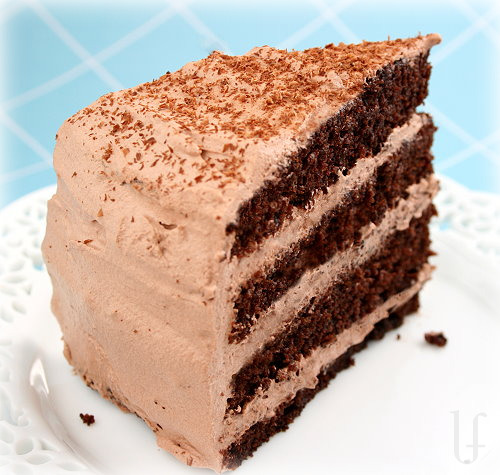 MOCHA CAKE with CHOCOLATE WHIPPED CREAM FROSTING
I can not get enough of this cake! Which isn't necessarily a good thing...
This is the cake that is requested most from my arsenal and for a reason. It's moist, dark, very chocolaty, and easy. It always turns out great, and gets better the next day.
I've used it for berry "shortcake", simply dusted with powdered sugar as a snack, and it will even make an appearance at my daughter's wedding. How special is that?!
I've paired it here with gorgeous whipped cream and cocoa powder - and no one would ever think it was anything less than gourmet!
(The photo is actually half a recipe - baked in two 8-inch rounds, and then split. It's tall like that...imagine what you could do with the whole batch!!)
3/4 cup unsweetened cocoa powder
1 1/2 cups hot brewed coffee
1 teaspoon vanilla extract
Preheat oven to 350 degrees. Coat two 9 or 10-inch pans, or a 9x13-inch pan, with vegetable cooking spray and set aside.
In a large bowl whisk together the flour, salt, baking powder, baking soda, cocoa powder, and sugar. Whisk in the eggs and then the oil, milk, hot coffee, and vanilla, until smooth. Batter will be thin.
Divide evenly between pans (they will be full...you could use twice as many pans!) and bake for 25-30 minutes or JUST until a toothpick comes out with large moist crumbs attached. DO NOT over bake, and don't wait till it starts to pull away from the pans. Remove to wire rack and cool completely, place plastic wrap over cake when it's still slightly warm - this will make it even more moist. Run a knife around the edge and invert to release cake. Frost as desired.
2 cups heavy whipping cream
3-4 tablespoons unsweetened cocoa powder - depending on how chocolaty you want it
1/3-1/2 cup powdered sugar
1 teaspoon vanilla extract
In a medium bowl whip the cream until frothy and slightly thickened. Add in the cocoa powder, sugar, and vanilla. Beat until firm peaks form.
Store cake, covered, in the fridge.